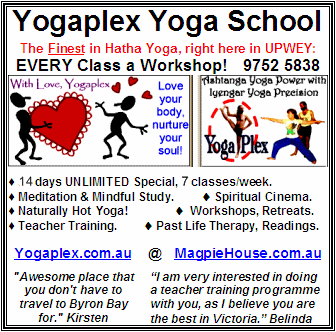 * Click Here for Magpie House Wholistic Centre Spiritual Cinema & Events *
Term 4 2017 11 Week Term, Monday 19th October to Thursday 21st December=

NEW START SUPER SPECIAL, 30 days UNLIMITED for just $60.

$23 Casual.
$100 5-Class Pass, generally expire end of Term.
$200 One Class per Week, with $20 casual for extra classes.
$300 Twice per week, Great Value! (Deposit & Instalments welcome).
$360 UNLIMITED TERM, up to 8 classes per week.
$560 6 Months UNLIMITED value special.
$1000 One Year UNLIMITED value special (just $8/class 3 times per week).

Join Anytime, Bookings Essential, book 03 9752 5838 or email gneo@yogaplex.com.au
* Personal Development Yoga Teacher Training, Click Here or see below. *
*** Click Here for Videos & Past Events. ***
Yoga Classes Hatha Naturally Hot Yoga Power Ashtanga with Iyengar Precision serving Yarra Ranges, Knox, Upwey, Belgrave, Boronia, Bayswater, Ferntree Gully & surrounding areas.
NEW! Registration & Class Booking system, takes a few seconds to load:
Springtime Yoga Backbends Workshop, click to book event:
Yoga, Cinema & Event Timetable for October 2017: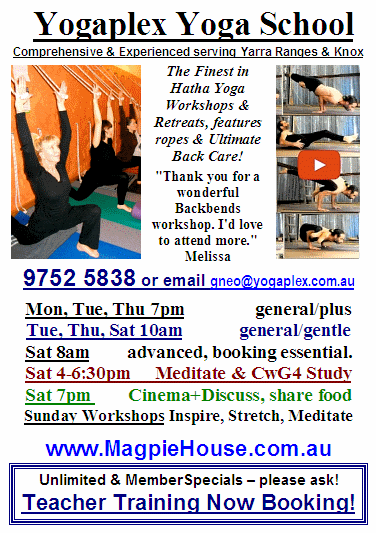 . .




* Top of Yogaplex Page * _ _ _ * to MAGPIE HOUSE Web Page *


SOME TESTIMONIALS (more further below) =

"I am very interested in doing a teacher training programme with you, as I believe you are the best in Victoria. If you may be interested I would be honoured to have you as my teacher." Belinda February 2014

"I'm so glad to have found your hidden treasure of a yoga studio, so wonderfully placed amongst the fresh air up in the hills!" Demi June 2012

"Only been practicing seriously for this term. George is a fantastic teacher, challenges you to go further & deeper. Will continue a life long practice." Kate Dec 2012

"George thank you for beautiful yoga workshop. The best Yoga ever. Very good combine with saturday double session. Great feel in spine & chest release." Rudolf Dec 2012

"Awesome place that you don't have to travel to Byron Bay for." Kirsten November 2011




Click to play Yogaplex Lotus Special Demo (allow 30 seconds to load):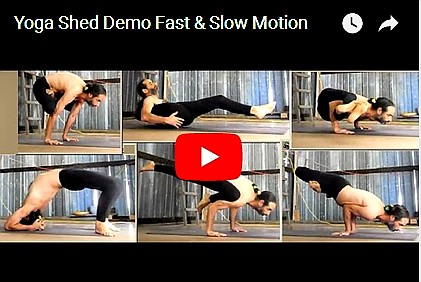 * Top of Yogaplex Page * _ _ _ * to MAGPIE HOUSE Web Page *


Very old ad from 2005, new phone number 03 9752 5838:

* Top of Yogaplex Page * _ _ _ * to MAGPIE HOUSE Web Page *
Vegetarian cafe shown below NOW OPEN!.
Fabulous outdoor vegie cafe garden area, suits functions & special events see below.
Magpie House Centre shown below.
Yoga/Dance/Activities room shown below.
* Top of Yogaplex Page * _ _ _ * to MAGPIE HOUSE Web Page *